My favorite! Between going on walks with your children to find these treasures to watching how children reconnect with nature, nothing beats this. (Not to mention that Nature Loose Parts are FREE!)
Discover the magic of creativity with these diverse Nature Loose Parts examples.
Nature-Based Loose Parts!
Pinecones and sweet gum balls picked up from a walk.
Wood cookies cut from fallen tree branches.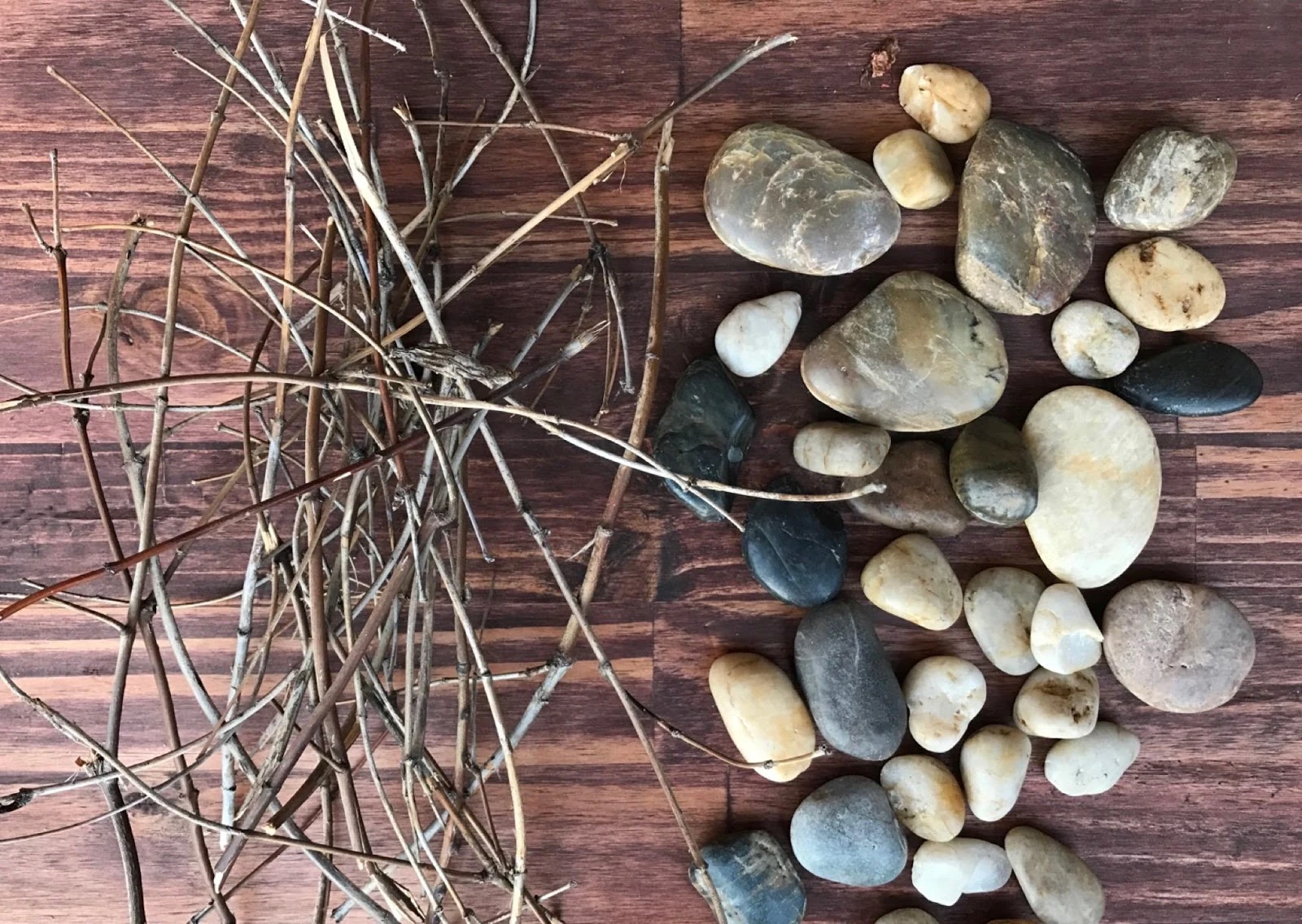 Sticks and rocks found on a walk in the woods.
Seashells donated by a girl who went to the ocean.
Acorns picked up on a nature walk.
Dried wildflowers found in the field.
Dehydrated oranges and grapefruit.
Leaves that have fallen from the trees and were found on the ground.
Dirt! Yes! Great outdoor loose part and fabulous for the sensory table and containers inside!
Dried sunflower makes for several loose parts within.
List of Nature-Based Loose Parts
Acorns
Sticks
Dirt
Dried Flowers
Rocks
Leaves
Seeds
Sand
Pinecones
Wood Cookies
Wood Chips
Moss
Shells
Pods
Logs
Peach Pits
Feathers
Squash
Sweet Gum Ball
Anise Stars
Cinnamon Sticks
Nutmeg
Explorations: Nature-Based Loose Parts in the Classroom
Leaf Collage
Home Creations
Mortar and Pestle Collages
Investigating and Sketching on Light Table
Number Invitation
Be on the lookout for the rest of the 7 types of Loose Parts in our series of Loose Parts examples.
For more information on this topic, don't miss our in-depth guide How to Get Started with Loose Parts.
BONUS! Download our Loose Parts Wish List and start collecting! ↓
In case you missed the other 6 Types of Loose Parts blog posts, no worries. I included that all right here for you!
What Loose Parts are YOU playing with?

What have your children inevstigate through nature-based loose parts?
References
Daly, Lisa; Beloglovsky, Miriam (2014). Loose Parts: Inspiring Play in Young Children. Redleaf Press.
Daly, Lisa; Beloglovsky, Miriam (2016). Loose Parts 2: Inspiring Play with Infants and Toddlers. Redleaf Press.
Sheridan, Mary; Howard, Justine; Alderson, Dawn (2011). Play in Early Childhood: From Birth to Six Years. Routledge.