The atelier (art studio) is one of my favorite spaces to set up when getting the third teacher ready.
But, one thing that can be tricky is figuring out unique and accessible ways to store and display your materials in the atelier for ease of access for children.
Today I will share ideas for inspiring atelier storage solutions! Let's get our own creativity working as we expand our own ideas for displaying art materials in the atelier!
Drawing Materials
Holes drilled into a log for storing crayons.
Reused jam jars for markers to show the colors through. (Acrylic clear cups work as well if the glass is not permitted.)
Acrylic clear cup found at the dollar store.
Reused tin cans with color swatches (found at a local hardware store) for matching colors.
A scrap wood piece was found and stained with drilled holes for storage.
Reused oil pastel tray (or any tray) with chunky crayons.
Paint
Vinegar and oil bottles for liquid watercolors. Brilliant! Pour into a palette and ready to paint!
Repurposed headphone rack. A wooden plate rack or 2 scraps of wood and 10 wooden dowels will also create this palette holder.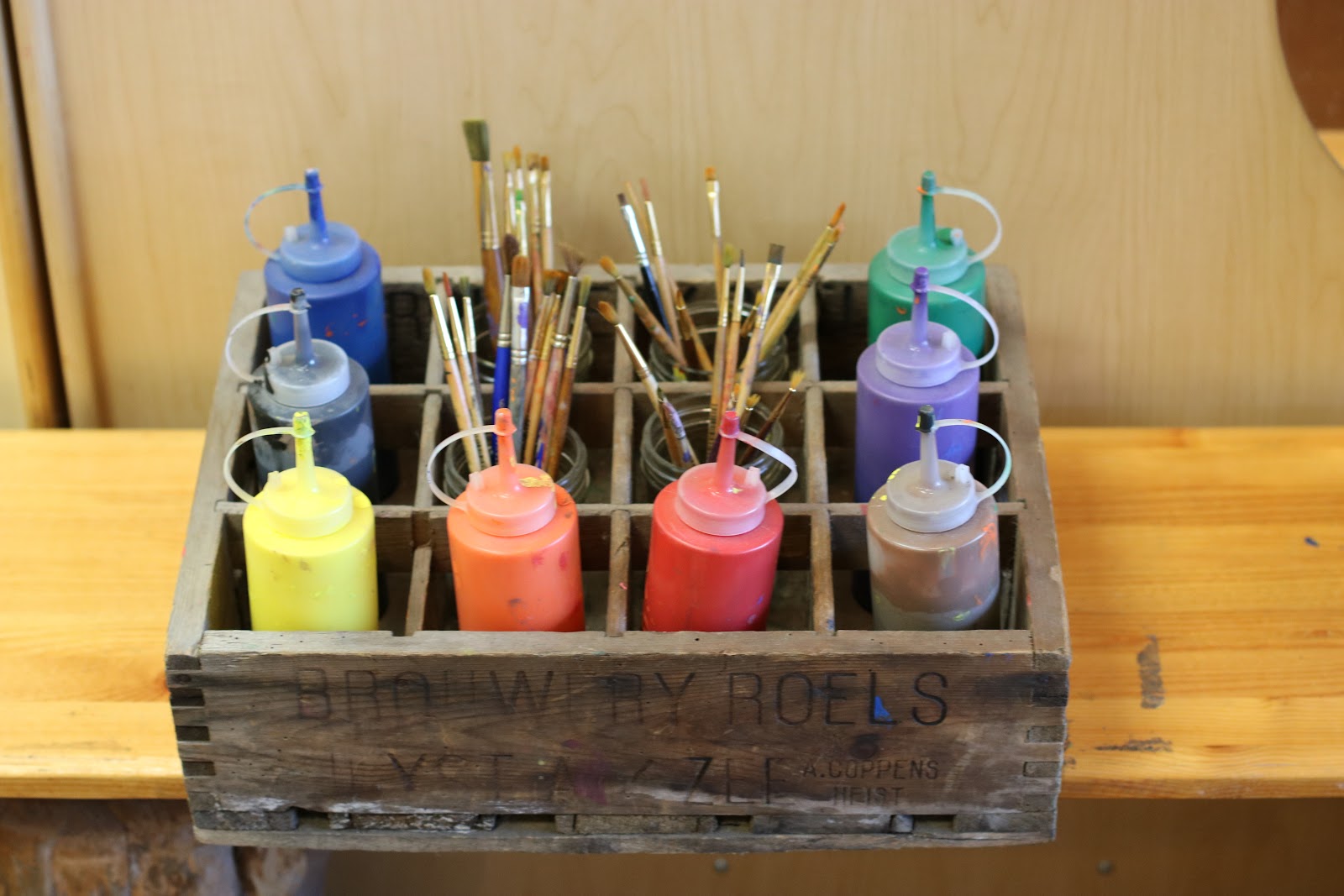 An old wood bottle crate found at an antique store is a fantastic storage container!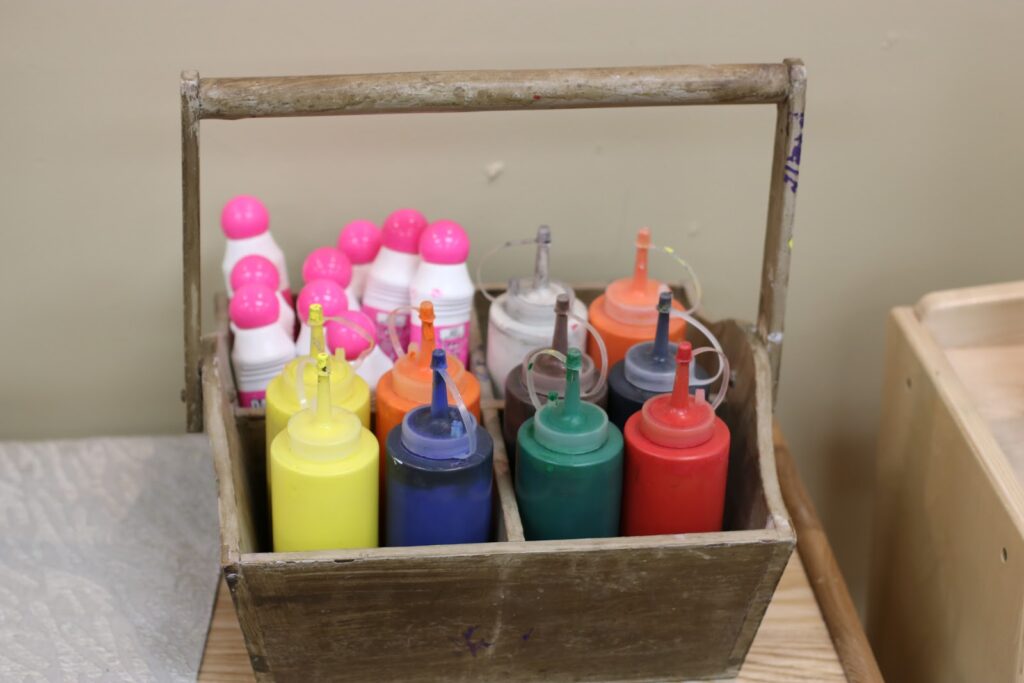 Another wooden crate! Notice the clear ketchup bottles for tempera paint! Mess-free pouring for children!
Baby food jars with lids! Children dip their paintbrushes in which color jar they need.
Any type of basket to hold bottles looks lovely and makes for easy transporting.
Jars with beans or gravel for displaying paintbrushes! Sturdy enough so they won't tip over.
Notice the special place for the vase on top of the wooden cookie. Again, plastic or ceramic vases work instead of glass as well!
Collage
A cupcake holder! Love this! Displaying scissors on top and reused paper on the bottom.
A spice rack filled with glitter! Easy sorting and cleanup for children!
Another cupcake rack is used for glue and glitter! Notice the salt shakers for less mess in glitter!
A brick for a scissors holder? Genius!
A spice rack found at a thrift store is great for displaying glitter.
Any type of tray with dividers is an instant loose part, and collage materials storage idea!
A simple rack found at a thrift store is great for reusable paper displays.
Final thoughts
In conclusion, having compelling and easily accessible storage for materials in my atelier has made a big difference. By ensuring that materials are readily available and within children's reach, we have fostered a sense of independence and autonomy.
By organizing materials thoughtfully, we empower children to take charge of their artistic journeys and enjoy the process of learning. Let's infuse our art studios and ateliers with enchanting storage solutions, and watch as the magic unfolds in the hands of our budding artists!
You may be also interested in:
References
Althouse, Rosemary; Johnson, Margaret H.; Mitchell, Sharon T. (2002). The Colors of Learning: Integrating the Visual Arts Into the Early Childhood Curriculum. Teachers College Press.
Duffy, Bernadette (2006). Supporting Creativity and Imagination in the Early Years. Open University Press.
Gandini, Lella; Hill, Lynn; Cadwell, Louise; Schwall, Charles (2005). In the Spirit of the Studio: Learning from the Atelier of Reggio Emilia. Teachers College Press.
Wright, Susan (2010). Understanding Creativity In Early Childhood. SAGE.